News
CLE Hosted by Zumpano Castro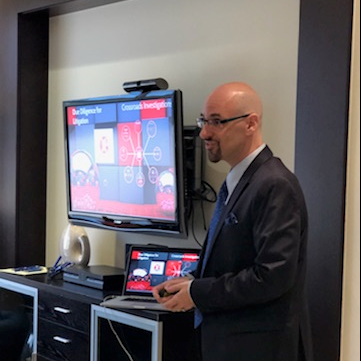 Zumpano Castro partner Sidney Needelman enlisted a fellow George Washington University graduate Marc Hurwitz, president of Crossroads Investigations, to conduct an exciting free CLE (Florida Bar 1 hour, with a half hour technology credit) entitled "A former CIA Officer's Guide to Investigations for Litigation." Topics included interesting stories from Marc's days working with the government, asset searches for collectability of judgments, what is legal and illegal for a law firm to have an investigator do on their behalf, and Google "ninja" techniques.
Seminar with Judge John Thornton
Zumpano Castro attorneys attended a seminar with Complex Business Litigation Judge John Thornton, which was moderated by Steven Davis, past president of the Dade County Bar Association.
2015 Mercedes-Benz Corporate Run

Zumpano Castro participated in the 2015 Mercedes-Benz Corporate Run in Miami. Rick Arce clocked the firm's best time with 24:35, which ranked 752 overall out of more than 27,000 participants. Congratulations to Rick! Pictured here are Rick Arce and Tony Castro.
Tony Castro served as head coach of the Belen Jesuit Mock Trial Team. In only its second year in existence, the Belen Jesuit Mock Trial Team advanced to the District Finals after remaining undefeated in four rounds of competition from a field of 21 participating schools at the Miami-Dade County Mock Trial Competition at the James L. Knight Center.
Pictured are attorney coaches Rob Suarez, Danny Hanlon and Tony Castro with Dr. Reyes-Garcia, who is the team moderator team and school principal, and the members of the Mock Trial Team.